Who is this Social Media Guide for?
We're often asked by our clients what social media is for, how and why it will benefit their business, how they should use it, what they need to do, if they need to pay for it, and even just "what is social media?". We've never promoted ourselves as social media experts, although we do have a lot of experience with it. So in an attempt to help our clients, and anyone else who may stumble across this article, I'm going to try and break it all down into a manageable social media how to guide! Fingers crossed...
I'm not going to try and cover everything you'll ever need to know about social media but hopefully enough for you to get up and running, manage your accounts well, and attract new business. If you find it works for you then there is an endless wealth of information out there about the specifics of optimising your social media campaigns, or you are of course welcome to get in touch and we'll help you if we can!
I'll be using two of our sister companies Hotbox Events and PAAM, and one of our clients John James Newman, as examples throughout this guide. Hotbox Events in particular is a great example of how social media can work incredibly well for a small business; the industry sector (festivals and volunteering) and target audience (18-25) is perfect for social media. The effectiveness of social media can vary depending on sector and audience although no matter what your business; social media shouldn't be ignored. Likewise, different social media channels can work better for different sectors, you can research this although often the best way to find out is to give it a try and see how you get on.
Social media is a fantastic platform for SME as generally, smaller businesses are better placed to take advantage of social media due to being more flexible and approachable. E.g. not every comment or statement coming from your company necessarily needs to be approved before being published, so you can be more dynamic.
There are a lot of social media channels out there although I'm going to focus on Twitter, Facebook, and Google+. These are the main 3 channels we always recommend, we've never had a huge amount of interaction on Google+ but as it's Google's and as part of social media is related to Search Engine Optimisation (SEO), it's best not to ignore it! We do use YouTube and LinkedIn, although not as heavily as Twitter, Facebook, and Google+.
Following the below, if you have any queries please don't hesitate to comment at the end of the post and I'll do my best to help! If you'd prefer to email us, give us a call, or just drop in for a coffee, you can contact us here.
What Social Media is
Social media is a broad term for a wide range of computer tools that allow you to create and publish information on virtual platforms such as blogs and social media channels. The information you publish can include articles, pictures, videos, or merely thoughts and ideas.
Social media allows for user interaction such as sharing, comments and discussions, and in most if not all cases allows for the creation of a community of followers with similar interests. There is more to it, although that's the basis of what social media is.
What Social Media is for and how it will benefit your business
Social media can help you to:
Attract new business.
Promote your company and brand.
Put a human face to your company.
Help you to improve your customer support and loyalty.
Build customer confidence.
Allow your customers to find and interact with each other.
Build relationships with other businesses.
Offer advice to your customers and sector.
Help you to keep up to date with your industry and competitors.
How to setup your Social Media channels
The first thing to do is setup your social media channels, so your Twitter account, Facebook page, and Google+ business page. The channels help you with this via their own 'how to' guides but if you've no idea where to start we can give you some pointers or setup your channels for you.
Once setup you need to brand your channels. For each of the three channels we're talking about this includes your logo as an avatar, a header image, colour pallet and company info. The channels change their minds as to the sizes required for avatars and header images all the time so I won't put them here - a quick Google search should let you know what the current requirements are. You'll need to crop and resize your images before adding to your social media accounts, if you've not got a program to do this you can use: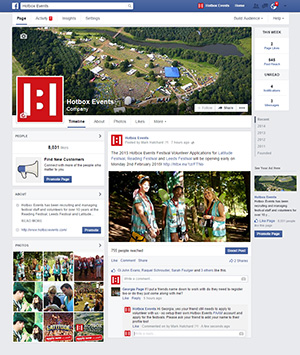 IrfanView - a great free image editor you can download at www.irfanview.com
GIMP - this has long been the most powerful free image editing software which you can download at www.gimp.org
When creating the header image try and make it represent what you do so it's easy for people to identify with, as we've done with the Hotbox Events header. If the image you'd like to use isn't very obvious then add some text to explain the company or product.
The colours for your channel are easily chosen via the settings area and its best to keep it simple, if you've got a colour pallet already for your website then just use this.
Lastly make sure you add information about your company in the 'about' sections and include your company's URL (website address).
Checking your Responsive Website Design (RWD) for social media traffic
Something often overlooked is checking if your website works well on mobile devices such as tablets and smartphones; there is no point in directing someone from your social media channels to your website if they can't see your website!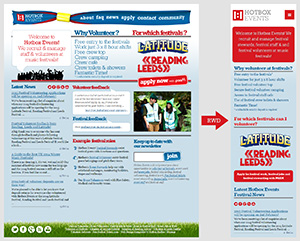 When showing search results on a mobile device Google now notes next to each search result if a website is mobile friendly; meaning mobile friendly websites now have a higher chance of being selected from the search results on a mobile device. Most modern websites use Responsive Website Design (RWD); meaning they change depending on the browser and the device that the website is being viewed on.
If you're not sure if your website is responsive then please get in touch and we'll check that it works across all of the most popular mobile devices and browsers.
Using Social Media Plugins on your website
You can use standard or custom designed plugins on your website to show the feeds from your social media channels; as used on the John James Newman website.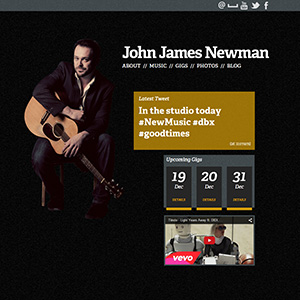 Whether or not you decide to use them really depends on personal preference and the layout of your website. It's fairly common practice to use them, they help to promote your social channels e.g. get more people following and liking your channels, and highlight your recent activity.
You can also use share buttons on your pages which are different to the icons that link directly to your social media channels. The social share buttons allow your website visitors to quickly and easily share specific page content on their own social networks e.g. share with their followers. Many websites offer visitors share buttons following an action, for example after booking a yoga class you could offer your visitors the option to 'share' this to their followers e.g. 'I've just booked a yoga class with Lakeside Yoga!'.
How to promote your Social Media channels
To help with growing your followers; without going OTT try and put your social media icons everywhere you can to let people know how to find and follow you. Examples of where you can display them include:
Your website's header and footer
Your blog posts
Your news posts
Your email newsletter's header and footer
Your company email footers
Its good practice and good for SEO to claim your vanity URLs as soon as you can. Vanity URLs are shorter URLs that you can choose and set, generally to your company name. When you initially setup your social media channels you may be given a long randomly generated URL for your channels homepage. Once you've gained a certain number of followers (25-50) thus shown activity and usage; you'll be able to claim your Vanity URLs.
Posting and interacting with others in the social media landscape is now your next port of call to further develop your channels.
How to start posting and interacting on your social media channels
The first thing to do is to follow some other accounts; this will mean you'll start seeing others posts on your channel's homepage. When you follow or like another account the account owner will receive a notification, so it's a mini advert to them that you exist and you may even get a like or follow back in return! Others posts are also a great way to keep up with your industry sector; if you see something that interests you and you think your followers may like it too then you can like it and if it's really good share or re-tweet it to your followers.
If you're short of ideas about who to follow, try searching for companies similar to yours on Google and via the social media channel's own search features. Once you're following a few accounts have a look at who those accounts follow as more than likely they'll be following accounts relevant to you too.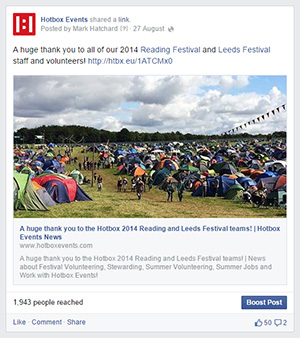 Once you've got the hang of following people and you've spent some time looking at the kind of posts others make, it's time to dive in and make your first social media posts!
When you post, always try and include a call to action and a link to your website. The idea of all this work is to promote your services; there is little point in building a great social following if you don't do anything with it! The link should be to a recent news or blog post, or a relevant page on your website e.g. end a post with '...find out more about our web design here http://htbx.eu/1DAXYve'.
If you're not yet running a blog it's something well worth considering, a blog allows you to create new content to engage your audience. If you're just posting about yourself over and over and linking to your homepage you won't get a lot out of social media; it's all about inspiring interaction, sharing, comments and discussions. If you've got a blog then try and create fresh well written content, including images and video wherever possible. The idea is to give to the online community, try and become a resource that educates, entertains, inspires, and informs. You don't need to try and become the next BBC, focus on your industry sector, or even just a part of it.
When you post to Facebook or Google+ you're not constrained to a character limit, with Twitter you are. You can post no more than 140 characters, including any links. To help with this Twitter introduced a link shortening tool. Links shared on Twitter are automatically shortened to a t.co link. Alternatively, you can use a link (or URL) shortening tool. We use bitly.com as it stores your links for future usage and also provides great statistics about the links you've shortened e.g. how many people have clicked a link, when it was clicked, where it was shared and more. If you'd like to get really posh you can also customise your shortened link, we did this meaning all of our short links start with the htbx.eu domain rather than bitly.com. You really don't need to do this though! An example of a shortened link:
Original link:
http://www.hotboxstudios.co.uk/web-design/web-design-hampshire/ (63 characters)
Shortened to:
http://htbx.eu/1DAXYve (22 characters)
Both links go to the same place but the second saves you 41 of your 140 precious Twitter characters!
There is a problem with link shortening tools related to Google Analytics which many overlook. In the process of redirecting the user from the shortened link to the final link, the source is often lost, which means Google Analytics doesn't know where the traffic hitting your website has come from. This results in the clicks from your social media channels being lumped into the 'Direct Traffic' category of your Google Analytics referral data, and therefore also not included in the 'Social' referrals area. When this happens you have no real idea how effective your social marketing is as you can't analyse the traffic.
To overcome the source referrer being lost when shortening links you should always tag your links before shortening them. You can do this using Google's Campaign URL Builder:
The page above explains how to generate a tagged URL, you can then copy and paste this into the link shortening tool and be safe in the knowledge the referrer data will be passed through to Google Analytics.
The Google Campaign URL Builder page does include it's own link shortening tool but do not use it! There is a problem with Google Campaign tagged links when shortened using Google's link shortening tool; the campaign tags are lost and no campaign data is passed to Google Analytics meaning you can't see thus analyse the traffic in Google Analytics Campaigns reports.
Yes, we know, it's crazy that the Google Campaign URL Builder, Google Campaign URL Builder link shortening tool, and Google Analytics, do not work together!
The answer is, create the campaign tagged URL using the Google Campaign URL Builder, do not shorten on that page, but using bitly.com.
Another point worth noting, is that all data for shortened links created using the Google Campaign URL Builder link shortening tool, which is the same as the simple Google URL Shortener https://goo.gl/, is public data. This means, anyone can take a look at your campaign data, which may not be something you want!
Another handy tool is a web based cut and paste character counter, we use:
www.javascriptkit.com/script/script2/charcount.shtml
A quick and easy way to check how long your message is before you post it on your social media channels.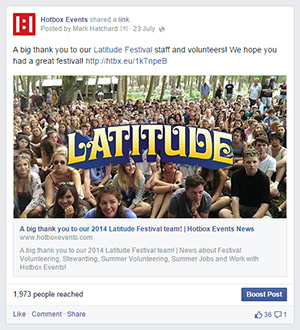 Whenever possible try and include an image with your post, be it on Facebook, Google+ or Twitter. Including an image will make the post stand out a lot more and give you a far higher chance of your followers engaging. As with channel headers and avatars there are optimal sizes for images depending on the channel, a quick Google search will let you know what the current best sizes are. Also in a similar way to channel headers; if it isn't obvious what the image is promoting add a logo or some text to explain it.
Unlike Twitter, both Facebook and Google+ can automatically source an image from a page if you include a link to a page within your post, if the image works you can just go with it or replace it with a larger higher quality version.
If you include an image with a Twitter post it uses 23 of your 140 characters so you can see why shortening your links is so important!
When you post try and talk naturally, the great thing about blogs and social media is they are an opportunity for you to give your company a human voice. Try to avoid your posts coming across like a dry corporate campaign, your followers won't respond as well. Be professional yet friendly and show you're approachable.
When it comes to frequency, posting at least once a day is best practice, although we don't all have that much to say, so at least once a week as a bare minimum. Irregular posting can alienate your audience and break trust in you as a resource so try to find a pattern that works for you.
That said try not to just post for the sake of it, and if possible plan your posts in advance. Some weeks you may have loads to say, so rather than posting it all at once schedule it for the future when you may have less to talk about.
You may have noticed people using @tags and #tags. An @tag (no spaces!) is a direct reference to another's account and can be used on Twitter, Facebook and Google+. For example, if you want to name check us you would post '...I'd like to thank @hotboxstudiosuk for...'. When you @tag someone it does a number of things:
Allows people to find references to the @account when searching on the social channel.
Allows people to easily find the person you are referencing.
Notifies the @account that you have name checked them.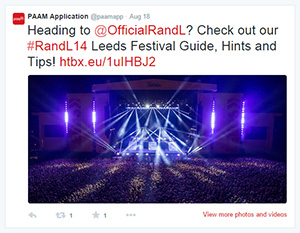 Specifically on Twitter if you start a post (or tweet) with an @tag it is seen as a message sent directly to the @account and won't show on your main tweet feed, so be careful. Generally you only want to start a tweet with an @tag if the tweet is a direct message or reply to a single @account. If you'd like to name check someone within a tweet but still have the tweet seen on your main twitter feed then just start with a word e.g. 'Hi @account...'. Careful when you @tag on Twitter, Facebook and Google+, all three will try and auto-complete the account you are tagging for you but it's very easy to select the wrong account. If I'm at all unsure I always bring up the account in a separate tab before @tagging to be sure I'm tagging the right account. Lastly don't over @tag within a single post, at most try and @tag no more than twice within a post.
A #tag (or hashtag, again without spaces) is used to categorise keywords within a post, if you click any #tag on Twitter, Facebook or Google+ all other posts with the same #tag will be shown. E.g. if you included '...this post is all about #eggs on toast...' within a post someone reading could then click on #eggs to bring up all other posts that include #eggs. #tags can be used anywhere within a post and often become trending topics e.g. very popular terms to include within posts as many people are talking about and searching for posts including the #tag. Again don't over #tag within a single post, a couple is okay but try to avoid more than that as it dilutes the message.
How to manage your Social Media accounts
As with most things, with social media the more you put in the more you'll get out. You don't need to spend countless hours every week creating new content for your website or blog and posting it. Try to aim for at least one new piece of original content per week and post to your channels letting people know about it. You can then fill the space in-between with relevant posts e.g. '...I've just come across this...' or '...we're doing this today, contact us to find out more...'.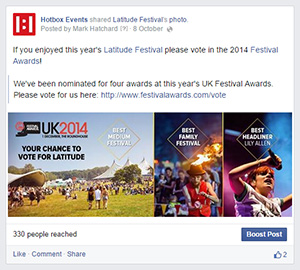 We've touched on sharing other's posts but it's important that you do so worth mentioning again, and relevant here as it's also a good way to fill the void between your own posts. Sharing other's posts shows that you're interacting with the social media community; that you're reading and interested in what others have to say; and an indication that you're keeping up with your sector.
If you have certain clients you work very closely with or have especially good relationships with try and check their social media accounts regularly. If they've posted something relevant to your followers then share this, your client will then receive a message letting them know you've done this which is a nice way to remind them of what a great supplier you are! If you can build a social media relationship with other accounts even better e.g. regular sharing of each other's content to your respective followers.
What can be a real time saver is creating a library of social media content to both reference and reuse. Try and put together a spreadsheet and folders of posts, images and videos. Image templates are also a very handy way to quickly generate new images at the correct size with logo and text layers already in place.
Over time and as you post them your social media accounts will naturally be populated with image and video galleries, although at first, your accounts will look a bit visually sparse. People love images and videos and they're a great way to get across what you're all about. So if you have an existing collection of marketing photos and videos you can either add a few when you setup your account or post them over the first few weeks or months your account is live. Images and videos are also a handy way to quickly generate a post on the days when you've not got anything else to chat about e.g. '...Bob dropped into the #vets today with his very cute dog Geoff...'.
If you find the process of posting to your channels a bit time consuming this can be automated, there are numerous plugins that can automatically post new content from your website or blog to your social channels for you. If you'd like a hand setting this up please get in touch.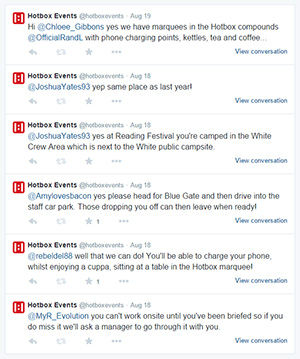 Interacting with others is at the core of social media, hopefully once you're setup and posting you'll start to receive questions about your posts. Try and respond to these in a timely fashion. In a similar way that being on hold is frustrating so is waiting for a reply to a query sent via social media. If you can, try and login to each of your channels at least once a day and check for new notifications, these should also be emailed to you but its good practice to login and check just in case the email has vanished into the ether.
You will receive negative comments from time to time, there is no getting around it. Don't delete them, censoring your social media channels isn't good form. Respond as soon as you can and if at all possible suggest they contact you via other means such as an email or phone call so you can properly address. Dealing with a customer complaint via social media is tricky, especially via twitter with the 140 character limit, a negative back and forth is also the last thing any company wants promoted on their social channels. A polite reply and request they contact your office via email or phone is in most cases the most effective way to deal with negative comments received via social media.
Lastly, try and analyse what you're doing. All of the social media channels offer performance statistics although there are many other ways to analyse the performance of your posts. We've already chatted about the tracking facilities available when you shorten your links using bitly.com. You can also use Google Analytics to drill down into the referral traffic from your social media channels.
If your website is hosted with Hotbox Studios then you'll automatically receive a monthly Analytics report from us which will provide an overview of the traffic your social activity is generating, although it's important to look further than just how many people are clicking a link e.g. time on page, pages per visit and bounce rate. When you know what your followers like you can then aim to create more of the same.
If you'd like to know more about analysing your social media performance please get in touch and we can help you with this.
Paying for Social Media Promoted Campaigns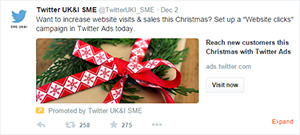 As the old saying goes; you get what you pay for.
There are various ways to setup pay per engagement and pay per click social media campaigns but the basic idea is similar to other pay per click online marketing e.g. you create a goal, decide on a budget, select a target audience, then you pay for each click generated. I usually recommend setting up at least two campaigns:
Increase followers
Website Clicks or Conversions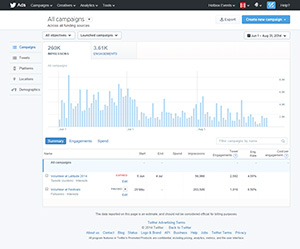 A campaign to increase your followers will do just that; you create one or more posts along the lines of '...follow us to find out more about...'; select your target audience; your budget; and your post will be pushed out to relevant accounts.
Increasing relevant followers is all well and good, and will mean your posts will reach a larger audience, although in itself a campaign to increase followers won't generate any new leads. This is where a campaign for website clicks or conversions comes in; you create one or more posts such as '...find out more about our new product here...'; select your target audience; your budget; and your post will be pushed out to relevant accounts.
The beauty of pay per engagement and pay per click social media is how targeted you can be when selecting your audience thus making sure you reach the most relevant accounts. For example with Twitter when selecting your target audience you can choose:
Location
Gender
Interests
Keywords
Your followers
Followers like your followers
Followers with interests similar to followers of other accounts
So combined, a targeted campaign to increase your followers and a second to promote your services, can be a very powerful marketing tool. We've had fantastic results ourselves using promoted social media campaigns for our sister company Hotbox Events, which as mentioned is well placed to take advantage of social media. We've very recently started using promoted campaigns for Hotbox Studios, so it's a little early to tell how well they'll perform for us although the analytics to date are very promising.
As with any pay per click online marketing, if you've not done it before I'd strongly advise you either take some advice or ask an experienced company to manage it for you. It's very easy to waste money with pay per click marketing.
This brings us to the end of our Small Business SME Social Media Guide. As I said, we've never promoted ourselves as experts but we've learnt quite a bit along the way and I hope some of it proves to be of use to you!
If you've got any comments or questions please don't hesitate to post them below.
If you'd prefer to drop us an email or give us a call, or even drop in for a coffee, please don't hesitate to get in touch.