Scientists create the world's smallest movie
A clever team of scientists at IBM have proved that size doesn't matter by creating what is being dubbed "the world's smallest movie". At first glance, the short film appears to be a simple dot-matrix story about a boy playing with a ball. All very simple stuff you may think - until you realise that each pixel is formed from a single atom!
A Boy and his Atom by IBM on YouTube Not simply born out of boredom, the film was created with state-of-the-art technology that could one day see every film ever made stored on a mobile phone. The atom animation, which many on the IBM team originally branded impossible, has also helped scientists better understand how to manipulate molecules. Mike Hahn, the creative director at Ogilvy, the ad agency that helped design the animation, said the concept of A Boy and his Atom was born after a late-night brainstorming session. Once software that could translate the story's animatics into something the IBM team could use was produced, the scientists really got stuck in, working nights, weekends and even (heaven forbid) through the Super Bowl! As the project required an experienced animator, 1st Avenue Machine director Nico Casavecchia was brought on-board to manage the technological complexities of the project. He only had 5,000 atom movements to play with, which must have added up pretty quickly when you consider that each movement was counted as a single frame. However, an undeterred Casavecchia explained to Ad Age, "It was an amazing process from a technical standpoint, but the limitations were the most interesting thing about it.". Andreas Heinrich, IBM Research principle investigator, illustrated the passion of everyone involved when saying, 'If I can get a thousand kids to join science rather than go to law school, I'd be super happy.'.
Manchester hailed as UK animation capital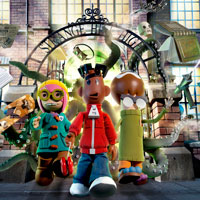 Manchester has been firmly plotted on the animation map after Altrincham-based studio Factory Transmedia was chosen to create the new brainchild of Simpsons and Futurama veteran Josh Weinstein. Strange Hill High, which is already proving a massive hit with viewers, is set in a dilapidated inner-city British high school, home to weird and wonderful happenings. The animators have been working with hypervynorama, a new technique that cleverly combines CGI with stop-motion animation and puppetry. Strange Hill High features 60 puppets, with many of the characters voiced by the country's top northern comedians; John Thompson of the Fast Show plays Peter Dustpan, a small boy who was tragically abandoned by the gates of the school, while The Royal Family's Caroline Aherne provides the voice of the evil tooth fairy. Bigging up the Brits in an interview with the Manchester Evening Post, Weinstein said, "For us American comedy writers, British writers are gods. I think that British comedy is far better." The Simpsons writer added, "This [Strange Hill High] is my favourite show, more than the Simpsons, which I spent a decade working on. I would hope that Manchester could be the next Springfield."
Ice animation makes for chilling viewing
A new internet animation that depicts the rapid depletion of Arctic sea ice over the last three decades makes for chilling viewing. The 30-second film, which illustrates the devastating effect of global warming via two animated blocks of ice, was developed by IT consultant Andy Lee Robinson in his spare time.
Arctic Sea Ice Minimum Volumes 1979-2013 by Andy Lee Robinson on YouTube One large and unmoving block on the left represents the Arctic ice coverage in September 1979, while a block on the right melts away at a disturbingly rapid rate as the years tick by, threatening to become nothing more than a puddle in the near future. Andy's animation was based on official stats of Arctic ice melt from the US. In an interview with Arctic News, he explained that his aim was to, "bring to life something that only existed in my mind to communicate an important message that is being ignored." He added, "We are in a period of mass extinction and heading for decimation of the quality of life for most life forms on the planet, including ourselves who are also subject to the laws of nature, of boom and bust as resources are exploited and depleted." The animation took Andy more than 100 hours to create, including the appropriately haunting piano track that accompanies the video, which Andy also wrote and produced. When asked why he had invested so much time and energy in the animation, Andy said, "To be heard loudly and truthfully because mainstream media is still tiptoeing around the herd of elephants in the room."
New York's finest ridiculed in stop-and-frisk spoof
Next Media Animation, the Taiwan-based studio responsible for a number of amusing animations that put a rather twisted twist on stories in the media spotlight, have done it again. This time the animators put their skills to parodying a New York Police Department training video recently shown to a court as part of a class-action lawsuit against the NYPD's stop-and-frisk tactics.
NYPD stop and frisk trial shows police training video by NMATV on YouTube The spoof sees New York's finest depicted as unfit overweight white males with a habit of mistaking obviously innocent members of the public for gun-toting monsters while completely ignoring baddies with bags full of automatic weapons. A particularly graphic scene shows a rifle-toting terrorist sitting on a park bench next to a pregnant woman. The voiceover reminds the officer to look out for a "suspicious bulge at the waistline", whereupon he punches the woman in the stomach, propelling her into delivery. In another scene, a cop is seen pinning a hooded black male against a wall. Again, the voiceover is taken rather too literally when, "don't be shy about going into the crotch area" is translated into the officer disappearing into the suspect's rear. The city of New York is defending the NYPD's stop-and-frisk policy as necessary to cut crime. However, lawyers are suing the department, claiming that of the five million stops made over the past decade, a disproportionate amount have deliberately targeted innocent minority males.
Facial animation? There's an app for that!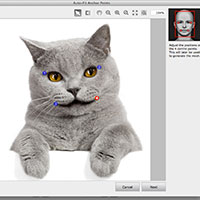 Fiddling with faces has long been an animator's nightmare. Because expressions are made up of both voluntary and involuntary movements, creating realistic moving faces on a computer is more than a little thorny. But digital character animation may have just got a tad easier and cheaper with the release of Reallusion's Crazy Talk 7. We think the new app will be particularly attractive to amateur animators, as it is relatively easy use and produces great results almost immediately. This is thanks to Crazy Talk's extensive library of preconfigured characters that come with ready-rendered built in movements. For those who want to import their own images however, the app also guides the operator through the pinpointing of particular parts of the face for movement. By importing your own pictures and videos, making your granny gurn or your cat chat is simply child's play! Once the facial movements are good to go, it's time to import the dialogue. The clever software analyses the sounds and matches them to movements of the face and mouth. You can then fine-tune the quips and emotions to produce truly uncanny and side-splitting results.