Amsterdam plays host to animation great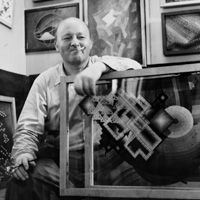 Amsterdam's EYE Film Museum is currently hosting an exciting exhibition of the works of Oskar Fischinger, a 1920s experimental animator who was branded a degenerate by the Nazis and quit Disney's Fantasia after being told his drawings weren't realistic enough.  The Experiments in Cinematic Abstraction exhibition is open until March 17, offering those in the Dutch capital the rare chance to see this early visionary's weird and wonderful works. Born near Frankfurt in 1900, Fischinger grew up in a brewery, which perhaps inspired one of his first animations, Spiritual Constructions, in which two silhouetted drunks morph into distortion and destruction. This outrageously inventive animation sees the men evolve into serpents and float away on seas of drunkenness, while soppy snuggles turn to stupefied swipes in the blink of an eye. Also in the Fischinger show is Spirals, a medley of abstract animation experiments that the artist created in his Munich studio in the mid-1920s. Later, Fischinger moved to Berlin, just as abstract films were starting to become hugely popular across Europe and America as a result of them being shown besides newsreels in cinemas. In the 1930s, Fishchinger was even commissioned to create animations for adverts for classical records, considered to be forerunners of pop music videos. But as Fischinger grew more successful, he caught the eye of the Nazis, who branded his art degenerate and refused to grant him a work permit. He therefore moved to Los Angeles in 1936, where he first inspired composer and artist John Cage before going on to work on, and then quit, Disney's 1940 movie Fantasia. The culmination of Fischinger's career came in 1947 with his creation of Motion Painting No 1, a filmed work of art that develops, transforms and corrects itself on screen. Watching the perpetual growth is quite absorbing, and proof that only a spirited creativity, and not necessarily high-tech equipment, is needed to create captivating animation. If you'd like to find out about more about the abstract animation produced by Hotbox Studios for the fine arts and performing arts please visit our fine art animation page.
Animation casts light on the dark history of Scottish mining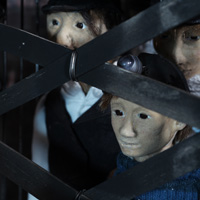 An enchanting piece of stop-motion animation is currently on display at the National Mining Museum Scotland. Artist in residence Claire Lamond's Seams in the Dark tells the story of the men, women and children who toiled in the country's bowels over the centuries. Using handmade puppets and original testimony from former miners, Lamond, who has already received a Scottish Bafta nomination for the work, bought one of Britain's oldest and most dangerous professions back from the dead. Speaking to STV Edinburgh, Lamond said, "They've got guides here who are ex-miners, so I spent a long time blethering to them and then thought - that's where my inspiration is - people are my inspiration." "When I was speaking to people it was the memory of their first time going underground [that] kept coming up and the strikes of 1984/87 and the closure of the pits. So I thought; there's my beginning and my end. There's my story". "It's a story about a young lad in the 1940s who is just about to go underground," explains Claire. "Leaving his home for the first time I wanted to try and capture the intensity of what that must have been like." Using the painstaking process of stop-motion animation, Lamond bought her tiny characters - which include the miners, their families and even the canaries that acted as their alarms to gas leaks - to life over a series of months. "The puppets just happen, they just come out," Lamond said. "I chose to cover them in nylon tights as it's a by-product of the coal industry, which is nice from a geeky, artistic point of view. "I'm making a film about real people and they need to look lived in. I don't make anything that's clean and neat. It looks like an appropriate response to this building [the National Mining Museum Scotland] - everything is kind of worn and textual and slightly grungy." Part of the Iconic Artists in Iconic Places scheme, a collaborative project by Museums Galleries Scotland and Creative Scotland, Seams in the Dark and the puppets Lamond used to create the animation are currently on display to the public at the National Mining Museum Scotland.
Student animation unearths Palestinian quarrying plight
A group of students from Oxford Brookes University has mixed animation with global politics in an attempt to draw attention to the plight of Israeli quarrying in Palestine. The Kite that Caught a Mountain is directed by James Altham and Alexander Gaisie, two students from the university's School of Architecture who have been involved in a series of regeneration projects in the West Bank village of Beit Iksa in collaboration with Riwaq, a Palestinian architectural preservation group.
The Kite that Caught a Mountain from James Altham on Vimeo. The short animation, scored by Philip Glass, one of the world's most influential modern composers, depicts a silhouetted father and son being pushed off their land by armed soldiers who shoot down the boy's kite. After the family's property is destroyed and the land quarried, the literal 'machine of Israeli occupation' is met with resistance by the community, representing hope for the future of Palestine.
Manipulate Visual Theatre Festival all grown up on second birthday
A puppetry and animation festival held in Norwich this month successfully proved that dolls and cartoons aren't just for kids. The Manipulate Visual Theatre Festival put a decidedly grown up spin on the two mediums, with films and stage shows covering such adult content as sexual frustration, jealousy and Hitler. Now in its second year, the festival, which took place between February 6 and 10 at Norwich Puppet Theatre, showcased a cutting edge programme of innovative puppetry and world-class visual theatre and animation. Visual artists from as far afield as the Netherlands, Russia and Israel joined Traverse Theatre Edinburgh, Puppet Animation Scotland and animation students from Norwich University College of the Arts to create the diverse and thought-provoking programme. The festival opened with the screenings of the students' animated films, followed by Fast Film, Slow Burn: Uncommon Singularity, a series of shorts from global filmmakers. Described as a "meticulously constructed tour de force of experimental animation", Chris Sullivan's Consuming Spirits made a particularly strong impact, as did the 'mockumentary' reality-show-cum-monster-movie Big Man Japan. Other memorable pieces included Schicklgrube, a dark comedy about Hitler's 59th birthday by Dutch group Stuffed Puppet; and To The End With Love, TIP-Connection's story about a bride consumed with jealousy when she learns about her husband's sordid past.
Hue Animation brings Hollywood to the home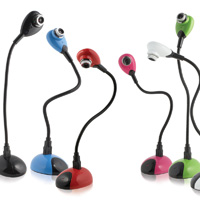 A clever new hardware/software combo has just made amateur animation that little bit easier. Stop-motion animation is already one of the simplest processes for budding movie makers to try, only requiring a camera and some basic software that is probably already on your computer. But now Animation Studio for Windows and Mac has dumbed down the procedure even further with the release of the Hue Animation Studio camera and its accompanying software. First of all, the camera - which of course comes in a range of funky colours - is specially designed for animation, with a long bendy neck allowing you to reach round corners, inside objects and shoot right from the ground. At the click of a button, you can also flip the camera feed from vertical to horizontal, and of course, it also doubles up as a webcam. Perfectly complimenting this bendy piece of brilliance is the Hue software, which despite being designed to be simple enough for children to use, manages to pack a lot of features into its interface. One of the things we like most about the programme is a clever little concept called 'Onion Skin', which acts largely like the 'ghost cars' from driving video games that show your last lap speed - you remember those, right? Well, Onion Skin shows you a ghost of your previous frame every time you start setting up a new one, allowing you to see exactly how much you need to shift the object to achieve smooth movement. All the shots stack in up in a folder as individual JPEGs as you work, allowing you to tweak each frame in Photoshop as needed. You can also watch your animation through at any stage in the process and drag in other stills and videos from your computer. If you have any doubts that stop-motion animation is child's play, they will perhaps be dispelled when you hear that the Hue Animation Studio camera and software pack, retailing at £49.95, actually comes with a free lump of Playdoh. Those with their own camera and squidgy stuff can, however, get just the software for £24.95. Happy movie making!
Believe the Hype?
Tumult has released an updated version of its Hype tool for authoring and animating HTML5 creations without Flash. Hype 1.6 for Macs now supports Retina-display systems and CSS filter effects and improves the action system of the software. According to the programme's makers, Hype 1.6 is the first app to natively support "the bleeding edge of Web standards", creating new possibilities for HTML5 animations. One of the most obvious changes is the introduction of Timeline Actions, which allow animation effects to be introduced at specific times rather than occurring in sequence or being triggered by user actions. Such actions can also be chained together to appear in sequence, eliminating the need to resort to JavaScript for complex animations. However, Hype 1.6 also comes with JavaScript APIs. Speaking to Macworld, Tumult co-founder Ryan Nielsen explained:  "While one of Hype's goals is to try and ensure users never need to code JavaScript to create their desired animations, we also know that a rich set of JavaScript APIs enables users who know JavaScript to create wonderful and complex animations." New actions for playback, pausing and jumping to specific points in the timeline have also been added, alongside features including a resource library, a document head editor, layout guides and a Capo tool. "The biggest reason to purchase Hype is that Adobe has basically discontinued Flash, and Flash isn't viewable on most smartphones and tablets," Nielsen told Macworld, adding that HTML5 is the only option for animators who want to create "engaging and beautiful Web content" that works across all modern browsers and devices. Despite all the highly technical tweaks, however, Hype 1.6 is also being marketed at non-developers, as it allows amateur animators to produce complex creations without the need for any coding. "Anyone who knows how to use Keynote or PowerPoint will feel at home with Hype," Nielsen said. "With every Hype release, we try hard to eliminate any code needed." Hype 1.6 can be obtained as a free upgrade for existing subscribers or from $59.99 (approx. £48.00) for new buyers. The software needs to run on Mac OS X 10.6.6 or later systems.
Keep up to date with Hotbox Studios
You can follow Hotbox Studios on Twitter and like Hotbox Studios on Facebook!