Breath animation visits Venice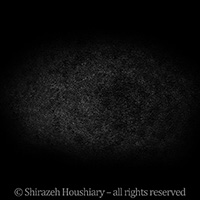 An animation re-mastered by Hotbox Studios is holding its own against the beauty of a 19th century Venetian building as Breath, an installation by Iranian artist Shirazeh Houshiary, continues to conquer the world. The exhibition, sponsored by the Lisson Gallery, is set inside the Torre di Porta Nuova, where the imposing bare brickwork, solid wooden staircases and reflections from the canal make for a perfect backdrop. First produced in 2003 in non-standard low-resolution, Breath was re-animated from the original source images by Hotbox Studios in 2012, allowing for the animation to be played on modern HD LCD screens. The centrepiece of Breath (2013) is the four-channel video created in a specially-designed black felt structure. Inside the dimly lit space, four screens gently pulse with abstract shapes and expanding and contracting mists, accompanied by chants taken from Islamic, Buddhist, Jewish and Christian prayers. Describing the architecture of her latest exhibition space, Houshiary said it was: "challenging because it is incredibly powerful… and it can take over the work… so the installation has to be strong, it somehow has to deal with the architecture of the space". Also hung on the vast brick walls of the Venetian house are Houshiary's incredibly intricate paintings.  The artist creates them by linking and layering chains of words until they become veiled. Before being hung, the large canvases are painted on the floor in order to give the observer a very deliberate "bird's eye view, not human perspective", something that Houshiary believes gives "a better understanding of…a map of the way things work". Speaking to Cultureshock Media, Houshiary said that breath was conceived to "create a force or a pulse in the space between the viewer and the painting" and is a haunting echo of the religious chanting and images on the screens in the felt room. If you're lucky enough to be in Venice, you can catch Breath at Torre di Porta Nuova, Arsenale Nord, until 24 November.
Catalonia to host new animation networking summit
Animation has proven to be one of Europe's more recession resistant industries, as digital artists remain relatively well paid and in high demand across the region. In order to keep the momentum going, this autumn will see the launch of a new networking summit in Spain aimed at industry buyers and producers from around the globe. Anima-T is slated to take place in Barcelona and Sitges in Catalonia on 10-11 October. This inaugural event, linked to the Sitges Festival, will follow TV trade extravaganza MIPTV Media Market, which is held each year in Cannes. As well as exhibitions, lectures and master-classes, the summit will feature work-in-progress pitching sessions, animated features and multi-platform content. In an effort to strengthen international ties and promote co-production, the Anima-T Networking Summit has invited Ireland - home of animation powerhouses including Brown Bag Films and Cartoon Salon - to attend the event as its first special guest country. Joining representatives from the Emerald Isle will be a selection of European and US programmers, distributors and commissioning editors. Carlos Biern, head of BRB Internacional, one of Spain's leading animation studios, explained that as his country faces record unemployment, especially among young people, more public-private sector tie-ups are needed. The CEO added that significant outside investment is available to the animation industry, such as tax credits in the UK for video games and animation. Speaking to Variery.com, Biern explained that "20 years ago young people studied direction, screen-writing, make-up, acting. Now we need other types of professionals." Catalonia's director general of creation and cultural companies, Jordi Sellas, added: "animation in Spain has never depended on just Spain, so is holding up despite the crisis". Catalonia is throwing its weight behind Spain's animation industry through support from the Catalan Ministry of Culture, Catalan Films & TV - PROA, Catalan pubcaster TVC, the Catalan Animation Producers' Association and the Sitges Festival. Anima-T kicks off in Barcelona in the second week of October, after which guests and delegates will move down the coast to enjoy the opening of the Sitges Festival.
We're Lovin' McDonald's latest ads - weirdly!
The strap-line: "I'm lovin' it" is one of the world's most instantly recognisable, usually accompanying images of beautiful people eating beautiful burgers. The reality of eating at Big Ron's place, as most of us know, is often altogether different. However, Pinata, a Helsinki-based animation studio, has produced three psychedelic short videos that defy the usual brief for a McDonald's ad.
McDonald's Hevikana Finland by Pinata on YouTube Although elements of the films are recognisably illustrations of the ingredients that could, but probably don't, go into MacDonald's burgers, the viewer cannot help but be transfixed by the surreal creations and kaleidoscope of colour leaping from the screen. One of three ads - meant to provide a visualisation of how the three winning creations of the Finnish MyBurger competition were devised - sees a spooky, featureless robot move through the inside of a music box filled with a collection of hundreds of beaten up trumpets, tubas and horns. Next our hero is found winding the box, which in turn powers a Frankenstein-esque machine that propels him towards the moon through a universe of jack-plugs, effects pedals and electric guitars. Another ad shows a disturbingly expressionless puppy running through a universe of flowers, vegetables, butterflies and whales as shapes and colours bombard the screen like something out of Kubrick's 2001. The third sees a burning orb melt into a sea of orange from which a humming bird emerges. Butterflies then appear from a dissected onion to form a quilt of colours. It may not be instantly apparent what, if anything, these gorgeous pieces of art are supposed to represent, but they are compelling, deserve repeat viewing and are a welcome departure from the usual gloss the marketing people at McDonald's commission. The videos were created with different techniques, including 2D animation effects, 3D elements and some compositing magic and particle simulation.
Travis return with a literally breath-taking video
RSA filmmakers Wriggles & Robins have done something that is likely to elicit envious appreciation from a few of Soho's more established promo directors. They have managed to produce a truly magical music video out of the simplest of ideas.
Travis - Moving by Travis on YouTube The visuals that accompany Travis's latest single Moving comprise of a series of projected animations appearing on nothing more than the band's breathe. What is so incredible is that the animations, which centre on a frosty breath man who appears to walk, run, leap, swim and fly from lead singer Fran Healey's mouth, were all created in the pre-production process and filmed in real-time on the day. This negated the need for complicated VFX in post-production and meant the filmmakers were able to create and manipulate the ghostly images in camera. The animated story was fashioned using animal structures from the Moving Picture Company's creature library in London. These designs were altered, so the film would have a unique feel, before being loaded into projectors. The rest of the process simply involved some very heavy breathing from the band in below freezing temperatures. The mid-air creations include horses, a whale, a ship and an aeroplane, as the narrative follows Fran's man as he travels from under the sea to outer-space and back to earth with a splosh! The animations are surprisingly clear considering that the canvass is vapour coming from the band's breathing, and the irregularity of that canvas gives the distorted figures an other-worldly, ethereal feel. According to Fran Healy "Everyone on set became five-years-old, wide-eyed, all day, watching real magic. Lots of ooohs and aahhs. It was very cool."